There are a million ways you can kill time, take a break or enjoy yourself in Portugal! Shopping, sightseeing, exercising, playing golf, sailing, laying by the pool, going to the beach, opera, concerts, theater, pubs and discos, fado, art, museums, archeological sites, palaces, parades, food and drink, history, costume, fashion, gardens, nature, animals, you name it, we've got it!
LEISURE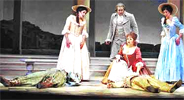 GOLF
There are quite a
large number of
golf clubs in Portugal
(for a relatively
small country)
that are open
to the general public.
OPERA
Although the opera is seasonal in Portugal, there are concerts all year.
FADO
Fado (or fate) is a very specific music genre that you can only find in Portugal. It ranges from the beggar's fado (fado vadio) from the small pubs (Tascas) of Bairro Alto (Lisbon) to the more elegant and internationally acclaimed artists.
PALACES AND MUSEUMS
Portugal has a large heritage of architecture and art (mainly Sacred Art). Probably the largest collection in the world. But it is not available to the general public and especially not to the foreigner. This is where we come in. If you love art, painting, sculpture, architecture, palaces, churches... You came to the right place! Just let us know exactly what you like, or if you haven't made up your mind yet, just let us decide.
FOLKLORE
Colorful parades, garments and jewelry
in a mixture of religious tradition and a celebration of excess.
FASHION
POOL
BEACH
AND SUNSHINE

NEW!